Heating your water with an electric water heater is simple and efficient. Marathon water heaters are non-metallic tanks which means your water heater will NEVER rust out. The Marathon has at least two inches of polyurethane foam insulation around the entire tank - top, bottom, and sides!
An electric Marathon water heater offers many advantages over propane or natural-gas units. First of all, the water heater is made from polybutylene. The tank will never rust out and will look good even in a damp environment. The water heater is bowl-shaped on the bottom to permit complete drainage of scale and sediment.
An electric water heater is simple to install because it requires no gas piping or chimney. Renville-Sibley offers incentive rates to make electric water heating your safest, most efficient water heating source. Marathon water heaters come in various sizes and capacities to meet your every need.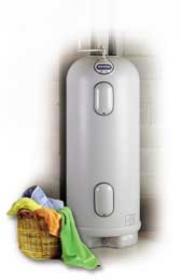 Rebates
$6.00/gallon Marathon Lifetime Warranty Units
$1,300.00 (plus tax) cost to purchase a 100-gallon Marathon Water Heater after rebates.
$1,200.00 (plus tax) cost of Marathon for new construction or fossil fuel conversion for 100-gallon model.
Must be connected to the load management system. 
$6.50 monthly credit for controlled electric water heater
| | |
| --- | --- |
| Capacity: | 100 Gallons |
|  Height: |  70. 3/4" |
| Diameter: | 30 1/4" |
| Cost Without Rebate: | $1,900.00 |
| Renville-Sibley Rebate: | $300.00 |
| East River Rebate: | $300.00 |
| Total After Rebate: | $1,300.00 (+ tax) |